The New Crosstown LRT, what you need to know!
Eglinton Crosstown Light Rail Transit (ECLRT), commonly referred to as Crosstown, is a 19km light rail transit (LRT) line being constructed from Kennedy Station to Mount Dennis (Weston Road) in Toronto, Canada. Approximately 10km of the line will be located underground and up to 25 stations will be built along the stretch. Expected for completion in 2021, the new Crosstown LRT is aimed at getting you where you need to be faster and easier. It will give families and young professionals the freedom to live, work and play, in a city always growing into something greater.
[su_heading size="17″ align="center"]Benefits of LRT over Subway/Streetcar[/su_heading]
• LRT vehicles are smaller and slower than subways, but travel faster and carry more passengers than streetcars or buses.
• The capacity of the LRT is pretty impressive: 15,000 passengers per hour per direction, but projections place ridership at about 5,500 passengers per hour per direction by 2031.
• Like a subway, LRT vehicles can be boarded through all doors at ground level, making them wheelchair accessible and reducing loading time.
• Subways get their power from an electrified rail below the train – this requires larger stations, more infrastructure and safety separation. An LRV gets its power from a cable over head, like a streetcar.
• LRT can run aboveground at street level, like streetcars, however they operate in separate lanes, meaning they are not affected by car and truck traffic.
• LRT can also run underground, like subways, as is planned for much of the Eglinton Crosstown LRT.
• LRT stops are planned to be about 500 metres apart, slightly farther than streetcar stops (about 250 metres apart), but closer than subway stops.• Older streetcars, like the ones we see in Toronto today, are smaller than LRVs, and require "loops" to turn around. LRVs are larger, and are "double ended" like subways, so they can change direction quickly without loops.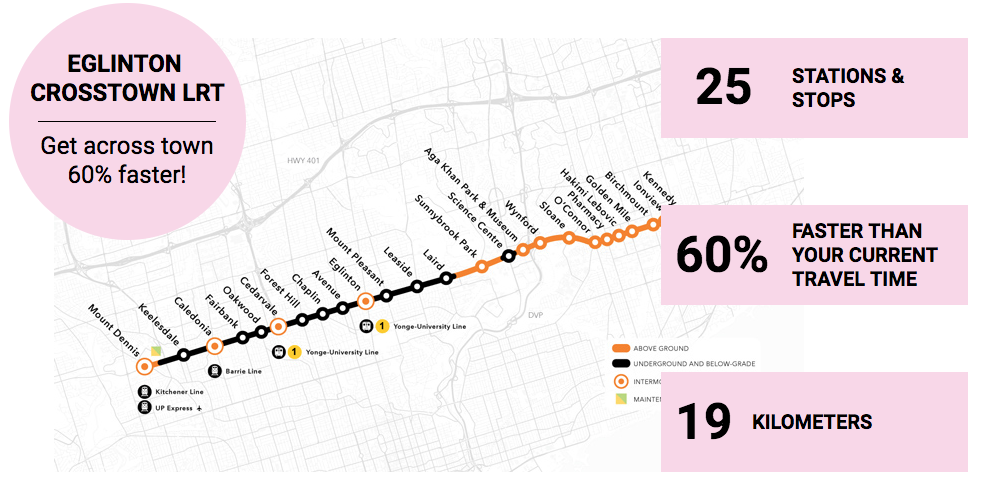 [su_heading size="17″ align="center"]Timeline and Critical Dates[/su_heading]
The Eglinton Crosstown LRT is a significant project with a long timeline, and works are completed in phases. Construction began in the summer of 2011.
The project is expected to be complete in 2021. The first pair of tunnel boring machines began tunnelling from Keelesdale Park (at Black Creek Drive and Eglinton Avenue West) in the summer of 2013, working eastwards towards Yonge Street. They reached Yonge Street on May 2016. The second pair of tunnel boring machines began at Brentcliffe Road in fall 2015, working westwards towards Yonge Street. They reached their destination in August 2016. In 2015, work began on station construction. By the end of 2016, construction was underway at all 15 of the underground stations.
[su_heading size="17″ align="center"]Impact on Housing, Community & Lifestyle[/su_heading]
It's true that the once-exciting project has been losing fans as construction drags on – in part for the disruption that's impacted Eglinton Avenue – one of the city's main east west arteries. However, the creation of the Eglinton Crosstown has been fairly true to both its projected timeline and cost. Once the construction is completed, Torontonians will be able to navigate our city with greater efficiency and ease. The Crosstown will provide fast, reliable, and convenient transit by carrying passengers in dedicated right-of-way transit lanes separate from regular traffic. While slightly slower than subways, LRT vehicles can carry more passengers than other types of above-ground transit. Here are some sample travel times that compare the performance of LRT against the current buses:

This project has very positive implications for the economy and employment rates. Throughout the construction phases through to completion and beyond, Metrolinx will partner with local companies and community groups to provide jobs, training, and other opportunities. Groups like the Toronto Community Benefits Network (TCBN), is connecting people with jobs in the trades and administration along the Crosstown line.
There are also many benefits to the Crosstown in regards to quality of life and the environment. Obviously, faster transit means less time spent commuting; not only is the Crosstown supposed to cut travel times, but it's also supposed to improve the reliability of existing TTC lines and consequently their travel times as well. And while the project couldn't be called "green", it will reduce traffic congestion, green house gases, and fuel consumption – eco-friendly and long term thinking implemented.
[su_youtube url="https://www.youtube.com/watch?v=h29kCh-aQn0″]
In conclusion, The Eglinton Crosstown will allow thousands of commuters to take a convenient, low-emissions transit option every day. If it functions as it should, it will not only help preserve the state of the environment, but will improve quality of life for daily commuters. This quality of life can mean minutes, and they count today, especially for millennials. Housing close to transit and the new LRT offers a new model for living. Housing options within these parameters will allow buyers to make these minutes what they want them to be.
Check out the projects below, minutes away from the new Eglinton Crosstown:
[su_divider top="no" size="1″]