Condo is LEED Platinum first for Toronto
Aqualina at Bayside is the first high-rise condo in Toronto to earn LEED Platinum certification.
Topping off at 13 storeys in the Bayside Toronto Community on the waterfront, Aqualina is also the second multi-residential project in all of Canada to achieve the designation.
Both project partners, Hines and Tridel, started pursuing the certification back in 2017.
"Energy conservation is a crowning feature of Aqualina and the entire Bayside Community," says Tridel's Director of Innovation and Sustainability, Adrian Wang. "Our collective efforts translate to a healthier, more sustainable community for residents and the city, and the financial savings are passed on to our purchasers. Because of our site-wide approach at Bayside, we're well positioned to replicate our success at Aquavista, Aquabella and Aqualuna."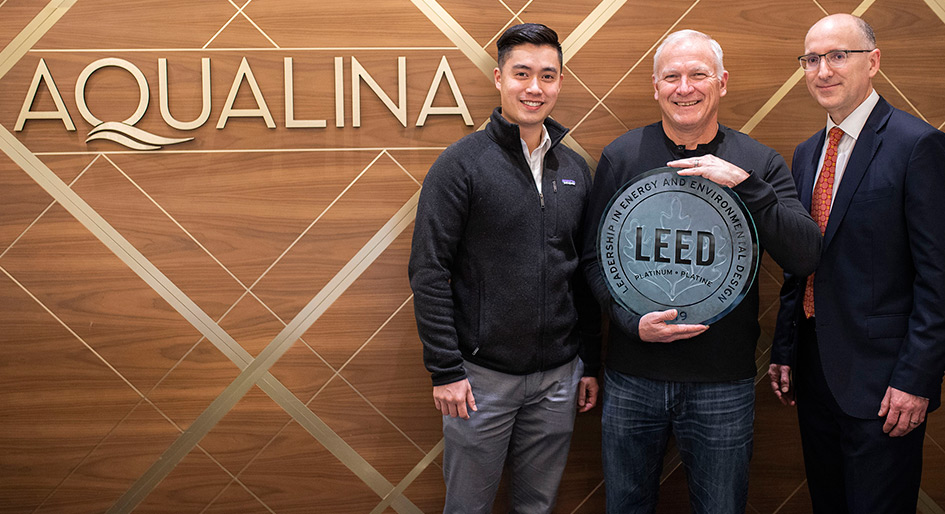 From left to right: Director of Innovation and Sustainability at Tridel, Adrian Wang; Aqualina Condo Board President Dave Hamilton; VP Construction at Hines Canada, Michael J. Gross
Hines, developer of the mixed-use Bayside Toronto Community, has also been an early supporter of the LEED program, overseeing more than 102 million square feet of LEED certified, pre-certified and registered properties in six countries.
"Sustainability has been a core value since the inception of our master-plan and we have taken a site-wide approach to energy conservation," adds Avi Tesciuba, senior managing director of Hines Canada.
Canada Green Building Council President and CEO Thomas Mueller noted how the condo plays a key role in the site's transformation to a vibrant mixed-use community.
"As the first condominium residence in Bayside, Hines and Tidel's Aqualina includes solar panels for renewable energy generation, and water-efficient plumbing fixture," he said. "Beyond environment, "Aqualina leverages the holistic approach of green building by improving residents' well-being through a healthy indoor."