Move over Toronto and Vancouver – why rich Chinese are buying up Montreal real estate over other Canadian cities
For years Chinese real estate investment in Canada focused on Vancouver and Toronto, but now Montreal is booming for property investment
While it remains a perennially popular destination for investment from China, shifting dynamics in Canada's real estate market, brought about by economic and political forces, are seeing investors broaden their horizons.
For many years, the story of Chinese real estate investment in Canada was a tale of two cities, specifically Vancouver and Toronto.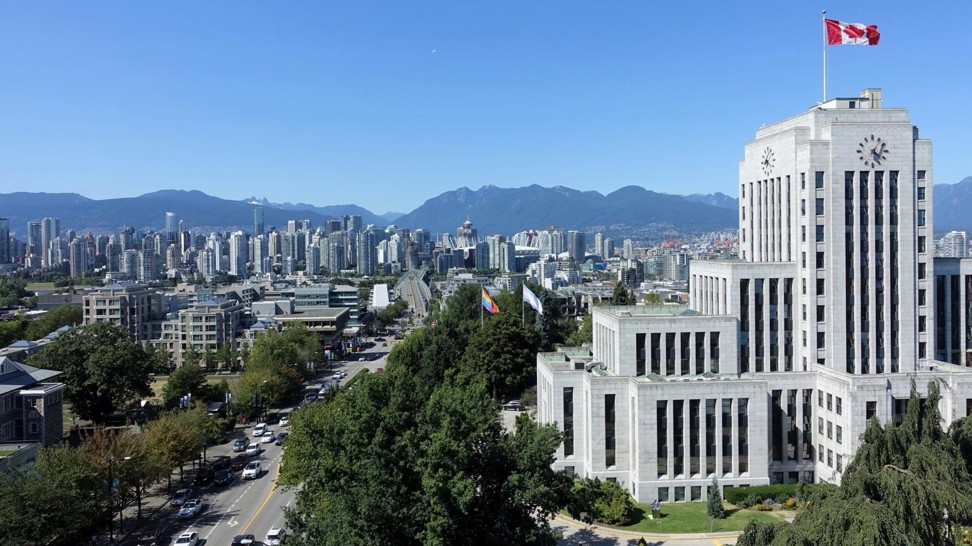 Vancouver, seen from near City Hall, has long been the most popular destination for wealthy foreign-earning immigrants, whose role in boosting property prices has been attested to by peer-reviewed research. Photo: Ian Young
The glistening gem on Canada's Pacific Coast, Vancouver, is the closest major urban Canadian centre to Asia, and remains a top destination for Chinese overseas investment. And for good reason: besides its proximity, Vancouver boasts a mild climate, stunning scenery, high quality of life, diverse educational opportunities and, perhaps most importantly, real estate values that have consistently appreciated over time. From January 2015 to August 2016, the benchmark price of a detached home in the city rose from C$1.018 million (US$773,420) to C$1.58 million, according to Greater Vancouver Real Estate Board figures, representing a 55 per cent increase in only 19 months.
Vancouver has been ranked as the second most unaffordable house market in the world, according to a new study of major property markets by Demographia International Housing Affordability Survey. Photo: Xinhua
Some of that lustre has come off the city. Spurred on by calls to tackle soaring real estate prices, in July 2016, the provincial government announced a 15 per cent tax on real estate transactions by foreign buyers in Vancouver and the surrounding Lower Mainland region. The tax went into effect on August 2 of that year, impacting many deals that had not yet closed. The tax would later be increased to 20 per cent in 2018 along with a provincewide speculation and vacancy tax on unused investment properties introduced that same year.
This regulatory intervention contributed to softening of prices and dampening of investment interest from China. Juwai.com tracks and compiles data on global real estate enquiries by Chinese buyers. In 2017, they marked an 18 per cent fall in inquiries from Chinese buyers in the Vancouver market.
There was a shift of interest to Toronto, Canada's largest city and cultural and business capital. In 2018, CBRE, a company active in the commercial real estate sector, noted that Asian investment in Toronto commercial real estate rose to C$526 million. Vancouver witnessed a fall in the same investment category from above C$1 billon fall to around C$350 million in 2018. But soaring real estate prices forced the Ontario provincial government to bring in its own 15 per cent tax on transactions by foreign buyers.
Despite moderately-successful legislated efforts to cool their markets, Toronto and Vancouver remain popular destinations for Chinese investment dollars and rental income for one reason. The Toronto Real Estate Board reported in October that the average one-bedroom condominium flat rent was C$2,262 in the third quarter of 2019, up 4.5 per cent from the same quarter in 2018. "For those looking to invest in rental property, there's still plenty of money to be made in many of Canada's large urban centres," notes Juwai's "Top 10 Chinese Buyer Picks H1 2019 Report" published in November.
While those two major Canadian markets remain buoyant, trends have forced Chinese investors to diversify their holdings, with many "now looking beyond the big cities, and Montreal was very much in vogue", notes the Juwai report. Canada's third-largest city also took the number three spot in volume of buyer inquiries, followed by Calgary, Redwood Meadows, Ottawa, Belleville, Markham, Hamilton and Victoria rounding out the top 10.
Tung Chia-yi has had a front-row seat to watch the city's desirability for Chinese investors grow, living in the Montreal since 1997 and working in the real estate industry since 2003. She says it has become a place that is "very attractive to live and work due to the arrival of innovative industries, companies and talent from around the globe. Yet, the real estate is still affordable".
View of the downtown Montreal campus of McGill University, a world class public research university in English founded in 1821 in Montreal, Quebec, Canada. Photo: Shutterstock
Tung notes that the experience of investing in Montreal may be different than some are used to: "They do need to be more 'entrepreneurial' to want to immigrate and invest in Montreal, since they have much fewer resources, lessons learned, and established connections than in Vancouver."
For those investing in residential properties, different parts of the city present different opportunities and value for money. From the artsy lofts of Old Montreal to single family homes in Notre-Dame-de-Grâce, each neighbourhood has its own unique appeal.
The attraction for Chinese investors goes beyond residential properties, notes Tung: "Chinese investors are now more business- and opportunity-oriented, instead of sticking only in Chinese-concentrated neighbourhoods. My colleagues and [I] have witnessed an important rise of motivation into commercial real estate investment."
The many forms of commercial investment include purchases of large multi family properties and lodging businesses (such as hotels and seniors' living facilities), land for development and existing buildings for redevelopment to meet local market needs.
The Canadian real estate market consistently ranks in the top five for interest from Chinese cross-border real estate buyers, regaining the number four spot as of October 2019, according to data from Juwai. Nonetheless, more affordable locales such as Thailand are seeing buyer inquiries grow at a much faster rate, says the site's executive chairman Georg Chmiel. "Canada's higher price point is a barrier for many buyers. There is a large cohort of buyers who have the means to purchase overseas property in, say, Bangkok or Manila, because entry prices for newly-built luxury flats there start at around C$130,000. The number who can afford homes in Canada's big cities is much smaller."
Want more stories like this? Sign up here. Follow STYLE on Facebook, Instagram, YouTube and Twitter .